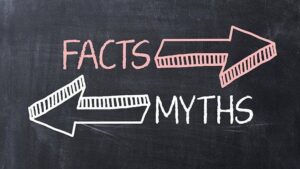 There are many myths about orthodontics and braces. This blog post will help you to understand the major misconceptions that most people seem to have regarding this very important health care service.
1. My child has to wait until all his adult teeth are in place before he can get braces. 
This is a common statement I hear every day from parents and patients. The truth is that you should have an orthodontic evaluation on or before age 7, as suggested by the American Association of Orthodontists because some orthodontic problems show up early and are best treated early while the jaws are still growing and the adult teeth have not fully erupted into place. The types of problems best treated early are persistent thumb or finger sucking, severe crowding, narrow jaws, chronic mouth breathing, under bite problems (lower jaw in front of upper jaw), baby teeth falling out too early and severe overbite problems (upper teeth overlap lower teeth).
2. My child's teeth are so crowded, I just know she/he will need teeth pulled. I had the same problem at her age and had 8 teeth removed.
Depending on the severity and the age of your child, most children today with severe crowding can be treated without any extractions of adult teeth. Advances in treatment options allow for non-extraction orthodontics and future facial negative consequences.
3. Braces are just for kids, I have bad teeth and probably my teeth are not going to move.
Adults orthontic treatment is growing at an exponential rate. My office is compromised of 50% adults and 50% kids and teens. With appliances like Acceledent, that speed up adult tooth movement and Invisalign(clear aligners) to move adult teeth, there are no limitations for adults getting a straight beautiful smile.
4. I understand that braces are usually worn for 2 to 3 years, its too time.
Most orthodontic treatments today range from 6 to 24 months. Sometimes longer treatment times are due to poor compliance, missed appointments, teeth not erupting as quickly as predicted or an extremely difficult case. The technology that is built into the braces today allows for more efficient tooth movement in less time and with virtually no discomfort!
5. I had braces as a teenager and now my teeth have shifted.
Most adults who seek retreatment will comment that their teeth shifted around the age of 20-25, as people stop wearing retainers in college or shortly after their braces come off, hence the reason for the shifting. Retainers are for life and are required to keep your teeth straight. They are prescribed night time life wear.
6. Braces are expensive and I will need to take a second mortgage on my home to pay for them.
The truth is that braces are really the best bargain in health care today. Orthodontic treatment time ranges from 12-24 months and the approximate cost is $6900-8900. If you have had a crown placed on your tooth recently or an implant for a missing tooth you probably paid $1500-4500 for one tooth. Orthodontics is working on all your teeth and providing you with a beautiful smile and health teeth for lifetime. To make braces even more affordable, most offices will set you up with an interest free payment plan for the length of your treatment. Braces are truly an investment in you or your child's future and affordable too!
7. My Family Dentist does braces too along with cleanings, crowns and fillings. Having my family treated here is the same as going to an Orthodontist and probably less expensive too!
The truth is that a Family or General Dentist does not have the specialized training in orthodontics that an Orthodontist has. An Orthodontist is first a General Dentist who goes back to school for an additional 2 to 3 years to specialize in Orthodontics only, a total of 11 years after high school. What I ask my patients is, "For a mole on your nose would you go to your trusted family doctor or a plastic surgeon?" I am sure the answer is simple.